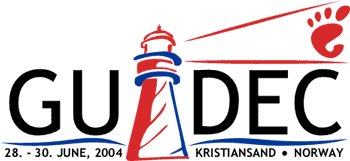 The 5th GUADEC is now over. Thank you all for making this a wonderful experience! Open Source developers from all over the world have had the opportunity to meet and make friends, something that has caused fruitful coordination of several Open Source efforts, like:
The 5th annual GNOME User and Developer European Conference (GUADEC), brought developers, GNOME Foundation leaders and individual, business and government GNOME and open source software users to Agder University College in Kristiansand, Norway. Here are some photos of the university.
The conference is a unique forum for highlighting the capabilities and direction of GNOME, the user environment for desktops, networked servers and portable Internet devices. GUADEC will also feature meaningful discussions of the future direction of Open Source development.
Latest News

The Video streaming page with the recorded video streams from the conference will appear here, as soon as Mike finishes editing them.

Practical information for when you arrive at GUADEC - registration, accomodation, weather, network access, meals, entertainment, schedule changes..

Registration for "Living for free" and student apartments is now closed.
Online registration for the conference is still possible.

"Living for free" is now arranged, and available from friday June 25th until thursday July 1st. A confirmation e-mail to those registered for floorspace is on it's way. Remember to bring your own sleeping bag and mattress. Those of you who have booked student apartments, should have recieved a confirmation e-mail.

Schedule is now available as an ical file. People using iCal, Evolution 1.5.x with Evolution Webcal installed and working, or Mozilla, can click this link and subscribe. If you have evolution 1.4 or other calendars that don't support webcal, you can download the ical file trough this link, and import the calendar or something similar.
Thanks to Richard Torkar and Federico Mena-Quintero

SAS are pleased to be appointed as the Official Airline for GUADEC 2004. See the travel page for more details for how you can avail of discount flights.

GUADEC will host developers working on the freely-distributed graphics program GIMP which is used for photo retouching, image composition, image authoring and animation. The GIMP Developers Conference 2004 will be held as a sub-event of GUADEC.
Many thanks to all our sponsors!